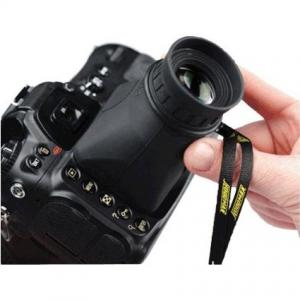 Focusing Issues For The Aging Photographer

As we get older, our eyesight tends to falter a bit, and achieving critical focus through the viewfinder alone becomes more difficult. Fortunately there are several camera focusing aids you can use to help you achieve critical focus with poorer eyesight.

Live View Mode

DSLR's have an optical viewfinder as the primary framing and focusing tool, using prisms and/or mirrors to provide a crisp, if somewhat restricted view of the scene as seen by the attached lens.

Mirrorless interchangeable lens cameras (ILCs) and compact digital cameras generally have an electronic viewfinder (EVF) that samples what the camera sensor sees and presents it in the EVF. EVFs can sometimes be problematic, providing a jittery image.

Modern cameras, including DSLRs, mirrorless interchangeable lens cameras, and compact digital cameras, generally also have a good-sized LCD display at the rear that can be used to check focus. Typically, for DSLRs in normal mode, the LCD is used to review the image after the shutter has been pressed. The image can be zoomed and panned to check to see if you've achieved critical focus.

In order to use the LCD as a larger focusing tool, the camera must Be placed in its live view mode. In live view, the camera's mirror is locked in the up position, and the LCD displays exactly what the lens sees in real time. Being able to compose and focus on a 3″ LCD screen rather than squinting through a viewfinder is a great benefit for the aging photographer. The downsides of live view are slower focusing and the fact that you'll be holding the camera at arm's length, instead of pressed to your eye, making for less steady shooting. Focusing with live view works best when the camera is supported by a tripod or monopod.

Mirrorless interchangeable lens cameras also allow switching between the EVF and LCD for composing and focusing, and compact digital cameras generally use the LCD as the primary focusing tool. Since ILCs and compact digital cameras are smaller and lighter than the typical DSLR, you will experience less camera shake when handholding. Another downside for all cameras with LCD screens is the ability to see the screen in bright sunlight. Although camera LCDs are getting better and brighter, this is still a problem for many photographers.

Manual Focusing Aids

Use of a loupe, a device for blocking extraneous light and in some cases magnifying the LCD image, can be extremely helpful for the aging photographer.

I use a Hoodman HoodLoupe 3.0. This loupe fits over any 3″ LCD screen, providing for a clear, glare-free view of the LCD image. I find this allows me to both focus effectively in bright light, and to check my image captures after the shot, for composition and critical focus. There are other brands of loupes, but the Hoodman line seems to be the most popular. There are also available accessories such as the HoodCrane and Custom Finder kits, for mounting your HoodLoupe to your camera to facilitate both-hands-on-the-camera shooting. These accessories are very useful for shooting video with your DSLR. The loupe features:
•1:1 Diopter Magnification
•+3 Diopter Adjustment
•German Glass Optics
•Compact Carrying Case
•Neck Strap

Electronic Focusing Aids

As an aging photographer, what would you give to be able to shoot low angle photos, for example, flower photography, without having to bend down or get down on your knees or tummy to look through your viewfinder or at your (non-swiveling) LCD? What would you give to be able to focus on a high-resolution 4 inch diagonal or a 9+ inch diagonal screen you can hold in you hand, rather than on the camera's LCD? For the relatively modest sum of US$299.99, I became the proud and grateful owner of a CamRanger wireless remote camera controller. [NOTE: the original CamRanger has been discontinued. There is a CamRanger mini currently available for $199.00 with the new CamRanger II becoming available in 2019].

For me, with a bad back, bad knees, and less than perfect vision, the CamRanger has been a godsend, and cheaper than chiropractor fees. I use it for my landscape and flower photography, and even for photographing my wife's displays of Department 56 lighted ceramic houses. She collects their Snow Village line and creates 4 foot x 8 foot seasonal displays using their houses and accessories. My CamRanger facilitates composing and focusing the extreme close-up shots I take of her life like displays.

CamRanger is a stand-alone device that connects to select Canon or Nikon DLSR cameras with a provided USB cable. It creates an ad-hoc Wi-Fi network to which your device (iPad, iPhone, iPod Touch, Android, or Mac or Windows computer) can connect to receive streaming Live View images . The free CamRanger app enables you to control your camera from the remote device. There is no need for a computer or existing Internet connection.

You can view and set camera properties directly from the CamRanger app, including:
•Shutter Speed
•Aperture
•ISO
•Metering Mode
•Drive/Shooting Mode
•White Balance
•Image Format
•Focus Mode (Nikon only)
•Auto Exposure Mode (Nikon only)
•Exposure Compensation & Bracketing
•Software Auto-Focus toggle to toggle AF/MF

CamRanger supports HDR (High Dynamic Range) capture, allowing you to take a series of bracketed pictures automatically varying Shutter Speed, Aperture, or ISO. It also supports intervalometer and bulb settings for time lapse photography and automatic focus stacking for enhanced depth of field in macro photography.

The CamRanger folks are always innovating. They've recently released a new motorized tripod head. When the CamRanger PT Hub and MP-360 motorized head are used with the CamRanger, you can easily pan or tilt the camera directly from the CamRanger app.

CamRanger motorized tripod-head CamRanger motorized tripod-head

These days I always pack my HoodLoupe and my CamRanger with me on my photo treks. They are compact and store easily in my camera bag. I use my HoodLoupe for quick composition and focus checking when shooting handheld or when using a monopod, and my CamRanger for all my tripod work.

Try them. They are certainly a boon for the aging photographer.